In our first interview of 2022, we spoke to Brentham FC boss Michael Buckley, who currently play in the 11th tier of English football, but are pushing for promotion to tier 10 for the first time in the club's history. Situated in the leafy Pitshanger, they play their home games at the Brentham club, that also hosts Bowls/Cricket/Tennis and much more. The club was founded in 1919 and celebrated their 100 year history in the disrupted 2019-2020 season, which they were leading the division before season was abandoned in March 2020 as the COVID-19 pandemic shut the country and football down.
You have been at Brentham since the 2018-2019 season, what attracted you to the job in the first place?
I loved the club. I love what the club is all about, friends family and a local community.
You sit in 4th so far this season, do you want to improve on that as the season progresses and what is your target?
I'd be lying if I said anything other than challenging for the title. It's been a difficult start to the season this time round but as I sat the boys down at the beginning of pre-season I stated I'm here to carry on what we weren't able to finish in the previous seasons and look for the title.
After failing to get promoted the past 2 seasons due to the disrupted seasons, is your aim while at the club to get the club to step 6?
100%. It was difficult having the season taken away from us with us in such a strong position in the league a couple of years ago but it makes us hungry to do it all over again.
Where do you see the side developing during your time with the club?
Firstly I have to say I was lucky enough to come into a very strong team made up by the previous manager Loz and coach John. I like to think I'd added a bit of grit and non league experience and been able to pull a couple of very good players into our squad which have taken us to the next level.
How hard is it to keep players given Brentham's unique setup?
It's been very difficult but made easier by the lads we've chosen to recruit. As I said it was hard having the season taken away from us a couple of years ago but it's given us the bit between our teeth being so close and we've managed especially this season to add the right type of players to hopefully give us a good chance to be in the mix come the end of the season.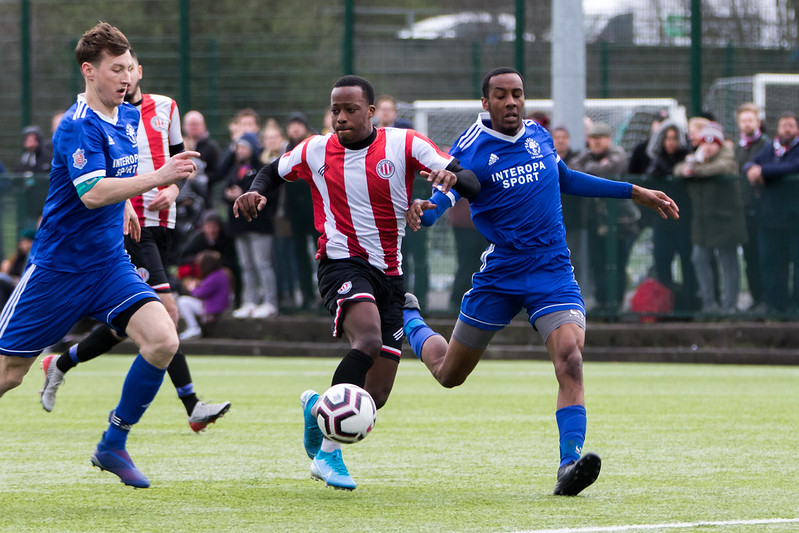 Your top goalscorer Edward Clements has been at the club for a few years, how do you as a manager help him achieve his goals on the field?
Ed is a good friend of mine and we've done a lot of work together to get the best out of him. I love the fact he's still adding more to his game and I've seen him grow and want to take more responsibility in each season. I still believe there more to come from him.
Who has been the toughest opposition you have faced this season?
That's a hard one. There's a few very good footballing teams in the league this season but I think our result against soma was a hard one to take early on in the season. We were poor on the day and I thought they looked a very good outfit and also northwest London. I've always admired their style of play. They constantly want to get the ball down and play.
What are the plans on and off the field?
Plans on the field are to carry on the little bit of form we've been building from before Christmas and new year. We've had a few good results 5-0 against gymkhana and a comfortable home win against Clapton. As for off the field we're looking at possibly adding one or two more to the squad.
What makes Brentham unique with many local clubs around?
I think it's a special club. We've recently had our 100 year anniversary which was cut short due to the pandemic but with very little financial backing the club and the first and reserve team squads have come together and both are looking to push on this season.
Do you think covid has brought more people into watching non league games?
I feel covid made a lot of people realize how much we love our football. Personally I find myself watching more non League football especially if our games have been called off.
If you could change one thing about non league football what would it be?
Not a lot to be honest. I love how real and authentic it is. Maybe the referees, I'm joking.
Now to find out a bit more about the man himself….
What Club do you support ?
Chelsea
What was your best moment as a player?
Winning the league with Hanwell town
What was the Favorite team you played in ?
Without doubt the league winning Hanwell Town team.
What Coach did you learn the most from?
Peter Scott and Ray Duffy
What are your aims in management?
To see where it takes me. I started managing at 27 years old. I should still be playing to be honest and get the urge most weeks but have to hold myself back.